For those who think it a pain having to type in a P/W (each time) to get into their Windows8, be aware that there is an alternative...
Instead of such a P/W, one can use a picture. You simply make 3 'marks' on that picture to have access. The 'marks' can be made by mouse or Touch.
Here is where this is done or set-up...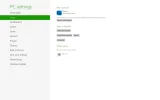 Cheers,
Drew