HI !
Yesterday I opened my computer and cleaned the inside because it was full of dust.
After I started it I have gotten a Blue Screen Error quite alot (every 15-30 mins)
This is not the first time I've cleaned the inside of this computer and have cleaned a few others too but nothing like that ever happend.
I have also tried reinstalling windows and formatting everything but it still happens (a little less often though)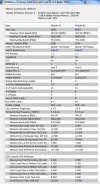 View attachment 012813-34062-01.zip
I have just got this one again
Crash dump file: C:\Windows\Minidump\012813-22546-01.dmp
Date/time: 28.1.2013 12:10:49 GMT
Uptime: 00:06:54
Machine:
Bug check name: VIDEO_SCHEDULER_INTERNAL_ERROR
Bug check code: 0x119
Bug check parm 1: 0x1
Bug check parm 2: 0xF10000
Bug check parm 3: 0x0
Bug check parm 4: 0x0
Probably caused by: watchdog.sys
Driver description: Watchdog Driver
Driver product: Microsoft® Windows® Operating System
Driver company: Microsoft Corporation
OS build: Built by: 7600.17118.amd64fre.win7_gdr.120830-0334
Architecture: x64 (64 bit)
CPU count: 2
Page size: 4096

Bug check description:
This indicates that the video scheduler has detected a fatal violation.

Comments:

The crash took place in a standard Microsoft module. Your system configuration may be incorrect. Possibly this problem is caused by another driver on your system which cannot be identified at this time.
Last edited: