Hello,
Ever since I got my computer, I have been receiving a variant of BSOD errors. Some of them have drivers on them, but some don't.
I have attempted to use a check disk application, which eliminated 4 different BSOD's. I also tried to use a Registry Cleaner like CCleaner, but with no results. I have scanned for viruses and there are no viruses on the computer.
RAMMon HTML:
file:///C:/Users/Ben/Desktop/RAMMon - SPD Info.html
CPU-Z HTMl:
file:///C:/Users/Ben/Desktop/BEN-PC.html
Crash Dump:
View attachment W7F_05-04-2013.zip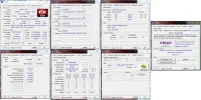 Thanks for any kind of help!