Hello.
This online MMORPG is not working in this windows.

It worked just fine in the CP version.
With this Windows I installed the game client normally and auto-patching the client successfully but when the game launches I don't see the server selection screen, and the game Icon is hung at the taskbar only.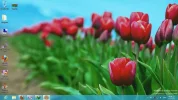 I have installed the correct display driver for my laptop as well as the DirectX.
Any help please?
I think I will start to use Windows 7 again.