What should i do ?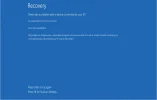 There was a problem with a device connected to your PC
An unexpected l/O error has occurred.
Error code:0xo00000e9
This problem can happen when a removable storage device is removed while it's in use or is failing.Properly connectig any removable storage and restarting your Pc may fix this problem.
Press Enter to try again
Press F8 for Startup Settings