Hi,
as of a few days I get this phenomenon where a folder or file that I have placed on the desktop - say an installation file as in the example - cannot be deleted when I'm done with it, but rather I get 'Could not find this item...' as can be seen below: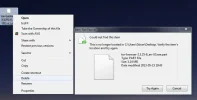 the file just happens to be a remnant from a completed d/l placed on the d/t but that has nothing to do with the problem; it happens on any file, system-wide.
Attempting to rename a folder on the desktop (which folder is very much there, as I can access the files within it), I got this: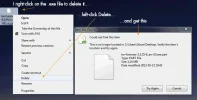 Checking my permissions yields this result:


so permissions do not seem to be the problem.
Any help with this is appreciated 'cause I'm completely perplexed and at a loss here. I either have to find out what causes this and fix it or it's a reinstall.

Last edited: