This is pretty much what I requested from the Win8 Build Team.
W/ this, no more need for the previous separate Shut Down & Restart buttons; although they can stay on Start, as tiles. And, better than Alt+F4...better than anything, really. Way better than, Charms>Settings!
Still hope we see it embedded in next versions of the OS.
Have deleted the Shut Down & Restart buttons from Quick Launch, now.
Put the Power button on the Sys Tray
Rt Clk (it) > About
Check (box) "Start w/ Desktop"
Now will be permanently there following reboots
NPowerTray
Enjoy!!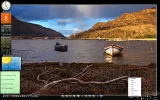 And, here's another view, also, showing use of Desktop Toolbar which, makes drilling down to ____ a cinch.