Just inserted a usb mous try to play cs & no sound. I reinstaled windows 7 x86, reinstaled realtek hd, even reseted the bios before install & still no sound. The main board is a NF61S micro AM2 Se , hoever detected in some softwers as NF61S-M2A. Audio driver instaled Vista_Win7_Win8_R270, but all so tryed with 32bit_Vista_Win7_R267.
Here is a picture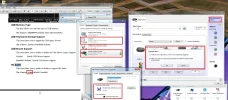 It's showing digital output sound working, but it doesen't detect any analog device in the back panel. I al soo tryed linux unbuntu & still no sound, does this meen the onboard sound card is dameged, or something is disabled from bios, because evrething apears ok on board no dameged capacitoars or smoked circuits.
In bios I only have Auto or disable for HD audio, afther reseet was set on auto, tryed all so with disabled but still no sound.
Please if any one can help me it would be a waste of time & money to buy a sound card.