I have these Error when I have try Recovery Media. I am not sure what to do behinde this point.
can you please help me?
Microsoft Windows 7 Home Premium 64-bit Edition
Error Code 27
System error code 27 means "The drive cannot find the sector requested."
This error code may also display as "ERROR_SECTOR_NOT_FOUND" or as the value 0x1B.
I also have image, If you like me to post them please let me know!
Thank you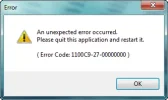 Last edited: