Here, just tossing this out, for no more reason than just for shits n giggles.
I revamped, tidied, the Taskbar, just mucking about; normally, it Auto-hides. And, this is w/out (any) Gadgets or Sticky Notes showing. Picture is arbitrary. I may leave it like this, try it out, for a while. Nothing's ever etched in stone...
(BTW, I don't need to use Desktop icons or Start; ergo, I don't use either.)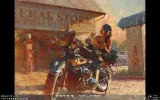 Close up of Taskbar, no Gadgets, no desktop icons, no need for Start. Can turn Gadgets on anytime I want to check the gauges & meters... or might want a Sticky Note, great as Reminder Notes or for To Do lists. But, I have nice photos from photo.net, hate to cover them.
Cheers,
Drew
Last edited by a moderator: