Anyone every see this, where in the "safely remove hardware" popup, it doesn't list the drive letters or info, so you can't know which drive to remove?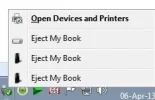 As a workaround, I am using a shortcut to the command: "C:\Windows\System32\rundll32.exe shell32.dll,Control_RunDLL hotplug.dll" which brings up the following window:

but this issue just started recently with a new computer and was wondering if anyone has a fix.
Some facts:
1. Restore is not an option.
2. Uninstalling things are not an option.
3. Yes, computer was restarted.
Thanks!