Hey hey, I've been getting BSOD repeatedly for the past week whilst gaming and even just on youtube and browsing the net. I've tried to identify the problem but I've had enough of dicking around now >.<
I've attached screenshots of CPUID (6 of them for each tab) + files of my W7F Diagnostic Tool folder.
Thanks so much for your help in advanced.
Ps sorry I couldn't .zip the files, I have the compressed folder on my desktop but the uploader wouldn't allow me to upload it.. I also excluded the WindowsUpdate, EventApp, EventSys and MSINFO32 text files as it said it was an invalid file type and would not upload either.. but I can make it available if it's necessary!
EDIT: Mediafire of the .zip because I was unable to upload it here.
http://www.mediafire.com/?xn3297443lqx5ox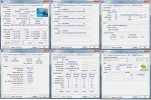 Last edited: