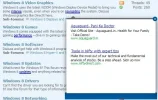 How do I stop such kind of pop-up ads tiny windows from opening in FF21 and chrome in w8?
It is such a sickening, irritating feature. It has become a terror to move mouse in the browser lest that would come over such double-lined tags and this window will open.
Even this site windows8forum has started this. So inconsiderate and sickening.
Thanks.
--
Rawat