Hi,
i hope you guys can help me. i got a motu 828 mk II FireWire lately and it crashes with BSOD and the following symptoms:
1) windows 7 BSOD on boot right after the windows logo before the login screen with a BSOD if i switch the Motu interface on when switching on the PC.
2) when i switch on the motu after windows has completely booted, tehre is no no problem in the first place but might come later
3) windows 7 BSOD sometimes randomly during editing audio-settings or switching programs
4) windows 7 BSOD when i shut down the PC and do not turn off the MOTU before shutting down
5) I have also a "electro-statical" pop when booting the MOTU.
find attached the W7F Diagnosis-zip
View attachment W7F_15-07-2013.zip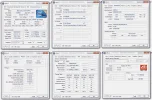 Last edited: