A very interesting blog on how Windows 8 has improved over Windows 7 in relation to media application.
Engaging with rich media—whether watching a movie, video chatting, or playing music—is one of the most prevalent and enjoyable things we do on our PCs today. I'd like to talk a little bit about the work we've done in Windows 8 to make a rich variety of multimedia activities possible, and to extend those capabilities to third party developers through an extensible media platform.

We had three goals in mind when designing the Windows 8 media platform:

1.Maximize performance. We wanted media playback to be fast and responsive, enabling the full power of the hardware while maximizing battery life on each PC.

2.Simplify development and extensibility. We wanted to provide a platform that could be easily extended and tailored for a given application, setting the stage for innovative custom media apps on Windows.

3.Enable a breadth of scenarios. A high performance, high efficiency, extensible platform can then enable a wide range of music, video, communications, and other multimedia apps.

With these three goals in mind, we set out to reimagine the media experience on the Windows platform.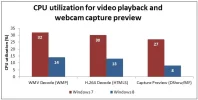 Link:
http://blogs.msdn.com/b/b8/archive/2012/06/08/building-a-rich-and-extensible-media-platform.aspx