I just inadvertently found this today. W/
Snap
you can run it right beside your desktop. Discover, learn & be glad to know all the Win8 Keyboard Commands (shortcuts) & w/ this right beside you, as you are doing things, it's your cheat sheet to getting them memorized.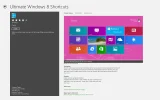 And
, indeed, if you look in
Store
there are
several
APPs offering insight and instruction, guidance to enlighten you as the use, navigation, understanding, productivity and enjoyment of Windows 8. Do yourself a favour and > Store > Charms > Search and type in
Windows 8
. Seriously, check it out... MS has put helpful stuff, APPs, there for you about operating Windows 8.
Cheers,
Drew

Last edited by a moderator: