Every time I download pictures from my digital camera while in the Desktop mode, the METRO Photo App pops up. I need to manually stop it from Task Manager, but...
A few minutes later, I see that METRO Photo App is running again. When I want to save my edited picture, my the computer freezes. After a few minutes, I get a message that "another program has that file opened. Please close that App."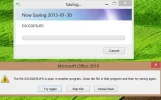 In my very simplified opinion, Windows 8 is like two OS in one - Windows 8 Metro and Windows 8 Desktop. And two "OS's" are competing with each other. I know, Microsoft said, "It's not true", but I've made up my mind about it.
Windows 8 was released too fast due to the smart phone competition in order to compete with Android phones; therefore, there are a few bugs that need to be fixed.