In the leaked build 7989, some of the developers at Microsoft's had some fun with the boot screen, making a quick copy/paste job of the beta fish we came to know and love in Windows 7.

It's a cheesy job, but a good laugh. Also notable is that the crossword puzzle seen in previous leaked builds has been filled in more, what will it end up telling us?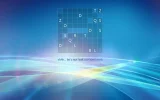 Another early adopter found an image deep inside the twinui.dll, which is one of the dynamically linked libraries containing unlock-able features. Strange? Yes.