Guru3D have posted that the new 8.1 update, which previews tomorrow, will have a Start menu almost reminiscent of the windows 7 Start menu. Hot corners can be disabled as well as booting straight to desktop.
How do they know this? Well Windows Server 2012 R2 already has the same options: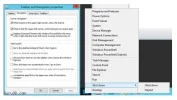 As stated above, Windows Blue or 8.1 can accessed through the Store from the 26th June (tomorrow) with the RTM scheduled for August 1st.
Read the Guru3D article here:
New Windows 8.1 Start menu details