Hello,
So this is a bit of an interesting situation that is a tad long and I think it is best to start from the beginning. It started when I received this error when running with my Seagate HDD:

I got a new 1TB WD Black and used Acronis True Image to clone my Seagate on to my new drive. I followed instructions to make sure the new HDD was properly formatted before doing so and named it (X: ). After cloning was finally completed, I attempted to boot from the WD HDD and was greeted with this:

This is not my computer, just a picture of the error I was receiving.
The error claims my copy of windows is not genuine. I tried multiple solutions to this error but got nowhere. In the end I used the school provided version of windows 7 64 bit and installed that onto the new hard drive with all the data still on it, as I thought it would just take away the not genuine screen and I would be back in business, well, I was wrong. Windows instead made a partition called System Reserved (E: ) and renamed the former (X: ) to (F: ).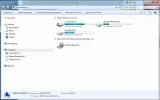 As you can see I am booted off my old hard drive so that I don't have to go through the hassle of dealing with the new drive as I don't want to mess it up more.
So ideally, I would like to have the WD become my local disk with all the data from my previous hard drive on it and have the System Reserved gone. I have some idea of what im doing, but not a lot. So if anyone could help me out I would greatly appreciate it!
-Rob