EDIT: Just realised this should probably be in Software forum, sorry.
This is a long shot.
So, my Dad bought a Sony Vaio Duo 11 Ultrabook (SVD11216PGB) for work. He is very familiar with an old forecasting application called Sage Winforecast Professional v4, which has not been updated in several years.
The issue with Winforecast is that the data entry sections on the opening page are greyed out i.e. are not displaying properly (see below). You are able via a circuitous route to access the data entry screens (which display with no problem) and all the reports and other functions display and the program is otherwise operational.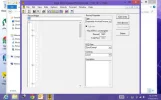 Sage are not supporting the program anymore and the website says as it is a 32-bit architecture it won't run on a 64-bit platform. However, they have advised that they have seen it work on some 64-bit systems, though obviously not this Sony model.
So my question is - and yes, it's a long shot, and yes, I've already told him he needs to start learning a different program - are there are bright ideas out there for what might be causing the issue on this particular laptop? Already updated all graphics drivers etc. Final last ditch attempt on my behalf as a diligent son.
Thanks.
Last edited by a moderator: