Following the foot steps of Windows Phone and Windows 8, the 2011 fall update for the Xbox 360 dashboard has been previewed again. Originally shown at E3, many were confused by the new system. Since then, Microsoft has worked fruitlessly on improving the navigation and other things on the new dashboard. They're describing it as "their biggest update since NXE".
The new update is also Kinect oriented but similar to Microsoft's theory with the Windows 8 Metro UI, it will work great with conventional methods (the controller in this case). Internal testing of the update is under way at Microsoft and if past schedules follow through, a public beta should be available sometime in September or October, monitor the MS Connect program for the update here:
Xbox LIVE Update | Microsoft Connect
.
A quick summary of new features to come: Kinect voice control, Kinect Bing search (not WWW search, some other form) Youtube!, Live TV (some special TV solution, works through pre-existing TV companies), and of course a completed revamped dashboard!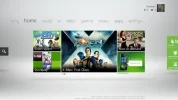 Last edited by a moderator: