If I let my computer go to sleep on it's own after 30 minutes of inactivity, it wakes up just fine when I hit any keyboard key:

But if I use the 'Sleep' button from the Start --> Shutdown menu,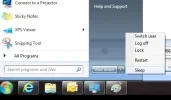 the computer will not resume from sleep. It does turn the computer power button on and you can hear the hard drive spin up, but the monitors remain in a state where they are not getting any input. The only way to get it to reboot is to hold in the power button.
Thanks for any suggestions.