Tutorial on customizing (Navigating) your Win 8 installation:
When you open Win 8 for the first time you will be very startled. You will be presented with what is called the Metro Start Menu. This replaces the well know Windows Start Menu.
Do not panic!
Note: This tutorial is generally for conventional PC (desktops and laptops) users, but most of the tips are transferable to touch screen users. Just substitute Swipe (Touch) for Click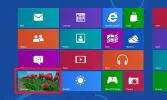 The method to go to the Desktop is as follows:
Click the Win Key + D
OR
Click on the Desktop Tile (see Screen Shot above)
You will now be on the familiar Desktop. Whew, that was a scary start. Everything will get easier from here on.
To go back to the Metro Start Menu simply click on the Win Key (Win)
You can access all your apps from here. Many will already be pinned to this Metro Start Menu (see the Screen Shot above). For any that are not found on this Metro Start Menu you can Right Click anywhere on this Metro screen. You will see a banner at the bottom of the screen with All Apps at the right side. This will open a screen with all installed apps that scrolls from left to right.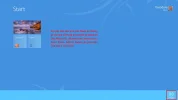 Whenever you install an app you will find tiles to that app on the Metro Start Menu.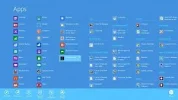 This screen scrolls Left to Right. There are actually about 3 pages of apps on my PC, I can only display the first. The apps on the Left are the Metro apps you have probably heard so much about. Most of the remaining apps are conventional Legacy apps that open the Desktop UI.
The remainder of this tutorial will be dedicated to the Desktop UI as this is where most of you will feel the most comfortable. All conventional PC's (both desktops and laptops) with keyboards and a mouse will work on either the Metro UI or the Desktop UI, but most users of Win XP, Win Vista, or Win 7 will feel most comfortable initially on the Desktop UI.
Charms Bar
If you place you cursor in the Upper Right corner or Lower Right corner you will open a Charms Bar. You can access many of the user customizable functions from this Charms Bar.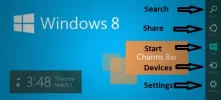 Settings will take you to several areas of your PC to set options in Win 8. Play with these various settings until you feel more comfortable with them.
Devices does just as it sounds.
Start will take you to the Metro Start Menu
Share does just as it sounds
Search also does as it sounds
There is a separate Charms bar while in any Metro app, but that is beyond the scope of this tutorial.
Power Users Menu
To activate this menu move your cursor to the Bottom Left corner
OR
Select Win + X
This opens the Power Users Menu where you will access many of the System Controls and the Run and Search commands. Play with this a little to see how powerful it is.

The remainder of this Tutorial will be in the next post because the Forum S/W limits the numbers of screen shots per post.
Last edited by a moderator: