It's occurred to me to mention a couple of things, might clear things up some.
I don't have any icons on the desktop.
In Windows 8, by default, there was/is a 'folder' on the Taskbar called Libraries.
Someone in another thread said something about Libraries, now, being 'hidden', by default, in Windows 8.1
However, now, the 'folder' on the Taskbar (there, still, is one, by default) is This PC. It gives all what's in the Libraries folders and more including, any & all drives; nothing hidden.
If, as I said earlier, this (folder) is replaced by an (ALL) Applications 'window' AND (this is what I hadn't mentioned) the Desktop Toolbar is enabled, the whole approach works. Desktop Toolbar has Libraries, This PC, Control Panel & more plus, whatever desktop icons you might have (that, remember, are not showing). Also, from here one can drill down, navigate to any location in the machine.
Here are some show-you pictures: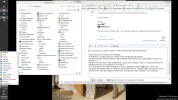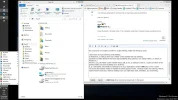 Cheers,
Drew
Last edited by a moderator: