Essential Member
Microsoft Community Contributor
Hi
I'm trying to make a set of DVDs so that I can transfer Wow Wrath of the Lich King to a friends computer.
I made 5 folders numbered 1 through 5 and then moved the folders from the installation to them in a way that keeps the size of any one folder smaller then the capacity of a DVD disk.
It doesn't need to be installed just copied back to the new computer in the correct location.
The problem is that when I try and copy them to the DVD in Windows 8 it says that 2.5 gig folder is too large to copy to the 4.7 gig disk?
Here's the image...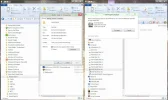 Anyone have any idea why this is happening or how I can get it to copy the folder to the disk.
To be honest I haven't tried using a third party app.
Mike
Last edited by a moderator: