Essential Member
Microsoft Community Contributor
Hi
I'm still trying to get the Windows Firewall to work.
I've resolved the Password Issue and have a password that it will except.
I still can't get the service to start and I don't have any other ideas.
Here's what I've got.
I'm pretty sure Local Service is the correct ID.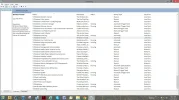 Then...

Next...

Followed by...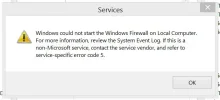 Error Log...


If I use any other ID...
I get a different error saying that the ID is different then the ID running in other Services.

So I'm sure that Local Service is the correct ID, it excepts my password.
But it says that I can't log in because access is denied?
Anyone have any idea how I can resolve this.
Here's a shot that shows the IDs on my computer, I tried all of them.

The only one that doesn't give me the ID doesn't match is the Local Service one.
Any help appreciated.
I've spent several weeks getting everything installed, I don't want to start over, if it comes to that I'll just forget that this is Windows 8 and ignore all the Metro services completely until such time that I have no choice but to do a clean install for some reason.
Mike
Ps how do I get rid of attachments like the one under this....
Last edited by a moderator: