Hey all,
I am having a problem in my lenovo z560 laptop where whenevr i play 720p videos, the laptop automatically shuts itself down after a few minutes..
At first i thot it was just that one video file, but soon i realised that it was all 720p video files, but normal HDTV files work great.
So i came to the conclusion that mayb the fan was getting overheated and hence the laptop shuts down..
But after a quick google search, i realised i should see the system event log where i found this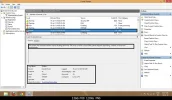 Can anyone please tell me what it means and how i can solve it?
I am incerasingly getting frustrated with my laptop shutting down while im watching movies or serials.
Thanking you all in advance,
Jenil