Hey guys, I have a question. I have both Windows 7 Ultimate and Ubuntu 13.04 installed on my laptop. Here's the partition details: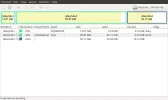 I wish to remove Windows 7, but keep all my personal data on that partition. I'm seriously done with W7 on my little netbook... it can't handle 2 applications running at the same time.
So I plan on deleting the "Windows" folder from it, try to merge the partitions into one huge one, and still keep all my data. Is this at all possible? BTW: the first partition is Acer D2D [disk to disk] which I plan on keeping there. Just merging Partition 2 & 3
Thanks,
NarWhat
**EDIT** I also have a 1TB External HDD if it is needed to temporarily save the data.
Last edited: