Essential Member
Microsoft Community Contributor
Hi
There was a post where someone posted about not being able to open a PDF document.
I think it was Mitchell pointed out he was trying to open it in Microsoft Word and you can't do that. I assume he wanted to edit it.
I was reading a PDF file today and I noticed that you can select the type in it.
When I right clicked on it, I got the copy option.
So I did that, opened Word, and clicked Paste.
It pasted the message from the PDF file into Word in a completely editable format.
There were a few errors but nothing the spell checker didn't catch so if you really need to use copy from a PDF file there is a way to do it.
On the Left a Word document with the copy pasted in, on the right the original commercial PDF file downloaded from the internet.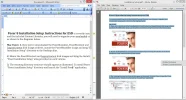 I tried this with some PDF files that I created myself in Adobe Indesign and they worked too.
I never knew that was possible, I always figured that once it was in PDF format it was more or less an image, even though I knew the fonts are embedded in it.
I guess there's alway something new to learn.
Mike
Last edited by a moderator: