I'm sorry if this is a bit long, but I would like to provide as much detail as possible. I've searched high and low and found no solutions.
I decided to finally take the plunge and install Windows 7 64-bit. Win7 32-bit worked great. I've tried installing 64-bit via both CD and USB and they both do the same thing. I'm currently downloading another ISO from a different location (though I downloaded the old ISO from DreamSpark). The installation goes as planned; it works great, doesn't take long. But when I get into the OS, that's when things go wrong.
I boot into Win7 and it installs over 30 Wireless LAN Card drivers. My last count said 32. Only two of them work--it's always different. Right now it's "802.11n Wireless LAN Card #18" and #9. The rest of the drivers in the Device Manager have a caution symbol next to them and have error code 12: "This device cannot find enough free resources that it can use." I can't see any wireless networks around me.
I first thought that maybe my computer has trouble with 64-bit operating systems, but Win8 64-bit installed and worked pretty well. I'm pretty much at my wit's end. I've tried these methods (and none work):
Uninstalling the extra drivers. They come back.
Uninstalling the extra tunnel adapters (which, oddly enough, are not present in this latest install). That got rid of the extra wireless adapters, but I still couldn't access any wireless networks or even see them.
Manually adding the network. In my research, I saw some posts where people said they couldn't see the networks, but they could connect to them.
Reinstalling multiple times.
DEVCON.
Installing BIOS drivers.
Here's a screenshot of a command prompt after "ipconfig /all":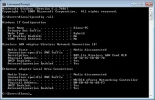 Again, sorry for the length, but is there anything I can do? I'm desperate and I
really
don't want to go back to 32-bit. Windows 8 had its own problems, so I'd rather not do that, either.
Thank you.
Last edited: