Essential Member
Microsoft Community Contributor
Hi
I forgot how much work it is to really start over with a new computer.
But I think I have everything installed and set up.
It took longer because I started off using the Metro interface, but I finally gave up on it and did things the way I'm used to.
Here's my desktop.
I run virtually everything from here.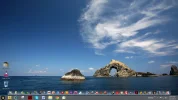 Here's how my Rocker Dock Bar is set up.

Games Section.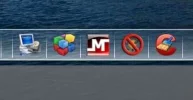 Computer Maintenance.

Graphics and Animation.
That pretty much takes care of everything.
I can access 98% of what I need right from there.
The Jug of Junk, and the Flask of Files is where I store stuff temporally before moving it to someplace else or deleting it.
One click on the Start Button and I can see everything that is on my computer all in one place. But with folders so it isn't spread all over the screen.
I can work back and forth from program windows to the desktop instantly and I can have multiple windows open.
The programs that I want to have available when I have a window open, like Word, Chrome, Agent Ransack, Skype, the Snipping Tool etc, go on the Task Bar.
Well that's it for now.
Mike
Last edited by a moderator: