Hey guys, I have a problem with my system that started around the time I switched to a Intel 520 SSD. Not sure if that is the issue, but some whacky things started around that time. Could be coincidence.
At first my system would only crash when it was not in use (3-4 am) while running things like folding at home. My other computer computer built out of spare parts can run it for weeks and still be stable on the same OS.
Lately the BSOD has become more prevalent, Microsoft reliability index below 3 for this machine.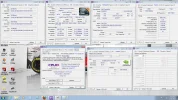 View attachment W7F_25-02-2013.zip
Sorry there are 100,000 issues with this system lol. Lets try chipping away at them.